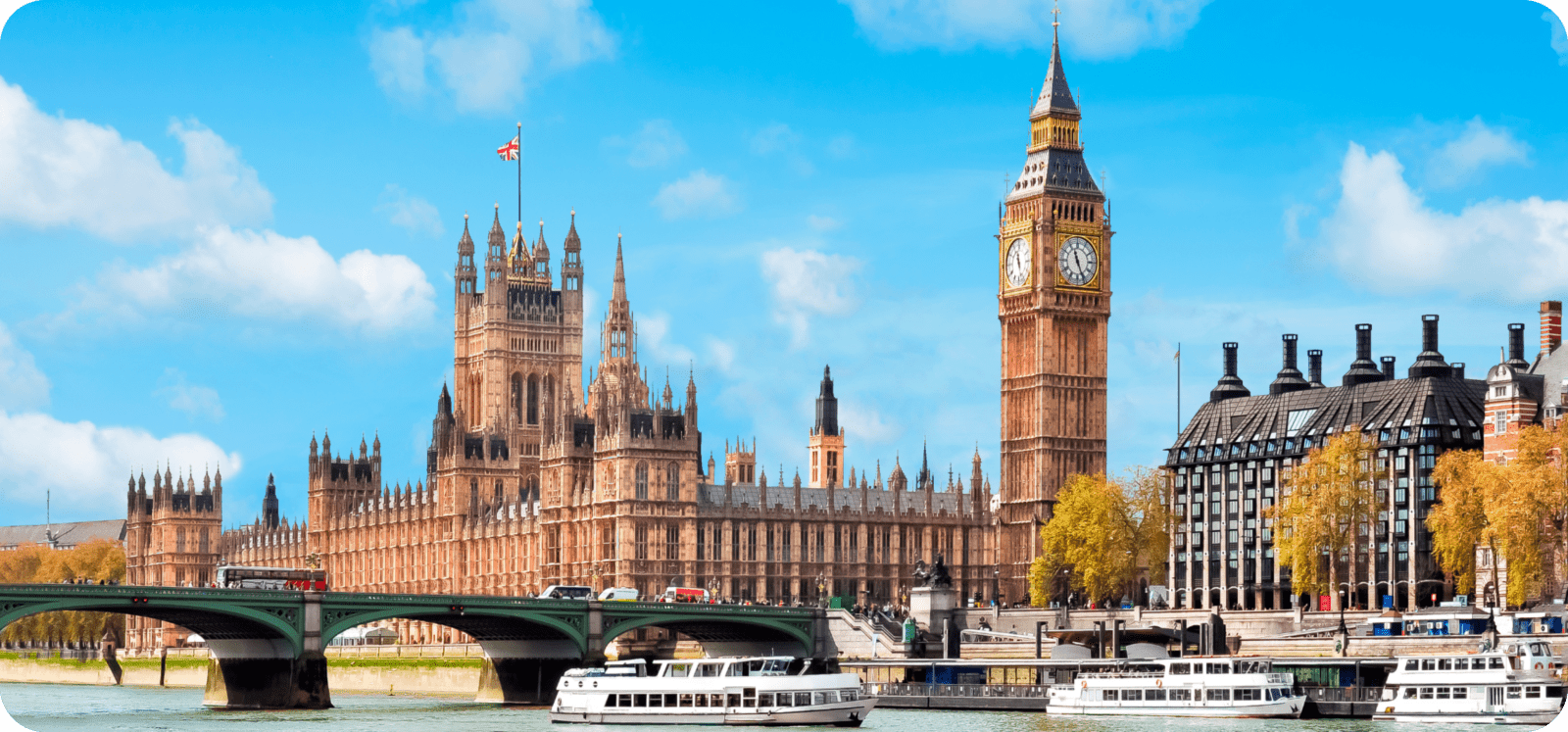 Meta: Host your incentive group travel in London with our Corporate incentive travel planners. Motivate your employees with life changing experiences.
London, with its rich history and vibrant culture, offers a world class destination for a bucket-list worthy incentive trip or business event.
Iconic landmarks on every corner – Buckingham Palace, Tower Bridge, Tate modern to name a few, and a thriving food and fashion scene, London truly has it all when it comes to topping the list of best incentive travel destinations
Add to this, the city leads the charge on sustainable travel and certification with its green tourism for London scheme – awarding business that are actively engaged in reducing the negative environmental and social impacts of their tourism operations.
So choose London for your incentive tour destination and reward your employees with unforgettable experiences while aligning your brand with a city dedicated to creating a better future.
Day 1
Morning: Arrive in London and check into an eco-friendly hotel such as The Zetter Hotel in Clerkenwell or The Savoy in Covent Garden – both sustainable hotels that prioritise energy efficiency, waste reduction, responsible sourcing and guest luxury and comfort.
Mid-Morning: Kickstart your London adventures with a popular eco tour – a guided walking tour of the city's iconic landmarks, led by a knowledgeable local guide. Explore the historic streets of Westminster, marvel at the grandeur of Buckingham Palace, and take in the architectural wonders of the Tower Bridge and the Houses of Parliament.
Afternoon: Explore London's rich cultural scene with a private group tour of the Tate Modern, one of the world's leading contemporary art museums. Experience thought-provoking exhibits and engage in fascinating talks about art, sustainability, and social impact.
Evening: Mark your first evening in London with a memorable dining experience at The Ethicurean, a sustainable restaurant that champions seasonal and locally sourced ingredients. Delight in a farm-to-table feast, where every dish tells a story of ethical food practices and culinary craftsmanship.
Day 2
Morning: Head to the water and set sail on a Thames River cruise and view the city's iconic landmarks from a different perspective. Sail past the Tower of London, Shakespeare's Globe Theatre, and the majestic St. Paul's Cathedral while learning about the river's ecological importance and efforts to protect its ecosystem.
Afternoon: Enjoy a fascinating street art tour in the vibrant neighborhoods of Shoreditch and Camden. Explore the ever-evolving graffiti and mural art scene, led by passionate local guides who share the stories, meanings and community impact behind the artwork. This is a great way to engage with the dynamic street culture of London and witness how art can transform public spaces into thought-provoking urban galleries.
Early Evening: Next head to nearby Camden Town, a vibrant neighborhood known for its eclectic markets and street art. Explore the bustling stalls of Camden Market, sample international cuisine from local food vendors, host a team challenge amongst the market stalls, and soak up the vibrant atmosphere of this creative hub.
Late Evening: Conclude the day with an exclusive backstage tour and live performance at Shakespeare's Globe Theatre, a reconstruction of the original Elizabethan playhouse. Experience the magic of Shakespearean theater and celebrate the enduring legacy of the world's greatest playwright.
Day 3
Morning: Offer your team one of three eco-friendly activities – a private scenic cycling tour through the iconic landmarks of London exploring the city's vibrant neighborhoods, picturesque parks, and historic sites. Or a thrilling adventure at Lee Valley White Water Centre, where white water rafting or kayaking will push your limits and build camaraderie. Or discover the world of sustainable fashion with a visit to the Fashion for Good Museum. Explore innovative and eco-friendly approaches to fashion design, production, and consumption, and learn about the importance of ethical fashion choices.
Afternoon: Next up, get out into nature with an afternoon at Kew Gardens, a UNESCO World Heritage Site and a haven of biodiversity. Take in the remarkable landscapes, glasshouses, and diverse plant collections while gaining insights into conservation efforts and sustainable gardening practices. Enjoy an English picnic in the gardens with the backdrop of peaceful woodlands and dazzling fragrant rose bushes.
Early Evening: Treat your team to a farewell dinner at Silo, the world's first zero-waste restaurant, renowned for circular, sustainable gastronomy (it doesn't even have a bin!). Delight in a menu crafted from locally sourced, organic ingredients and observe true commitment to minimal waste and ecological responsibility in action.
Late Evening: Conclude your London incentive group travel experience with a rooftop celebration at the Sky Garden, an urban oasis offering panoramic views of the city's skyline. Raise a glass to the memories made, the connections forged, and the sustainable learnings that have shaped this extraordinary journey together.
As your incentive travel experience comes to a close, take with you the inspiration, knowledge, and shared experiences that will empower your team to embrace community, sustainability and responsible practices in all aspects of life.