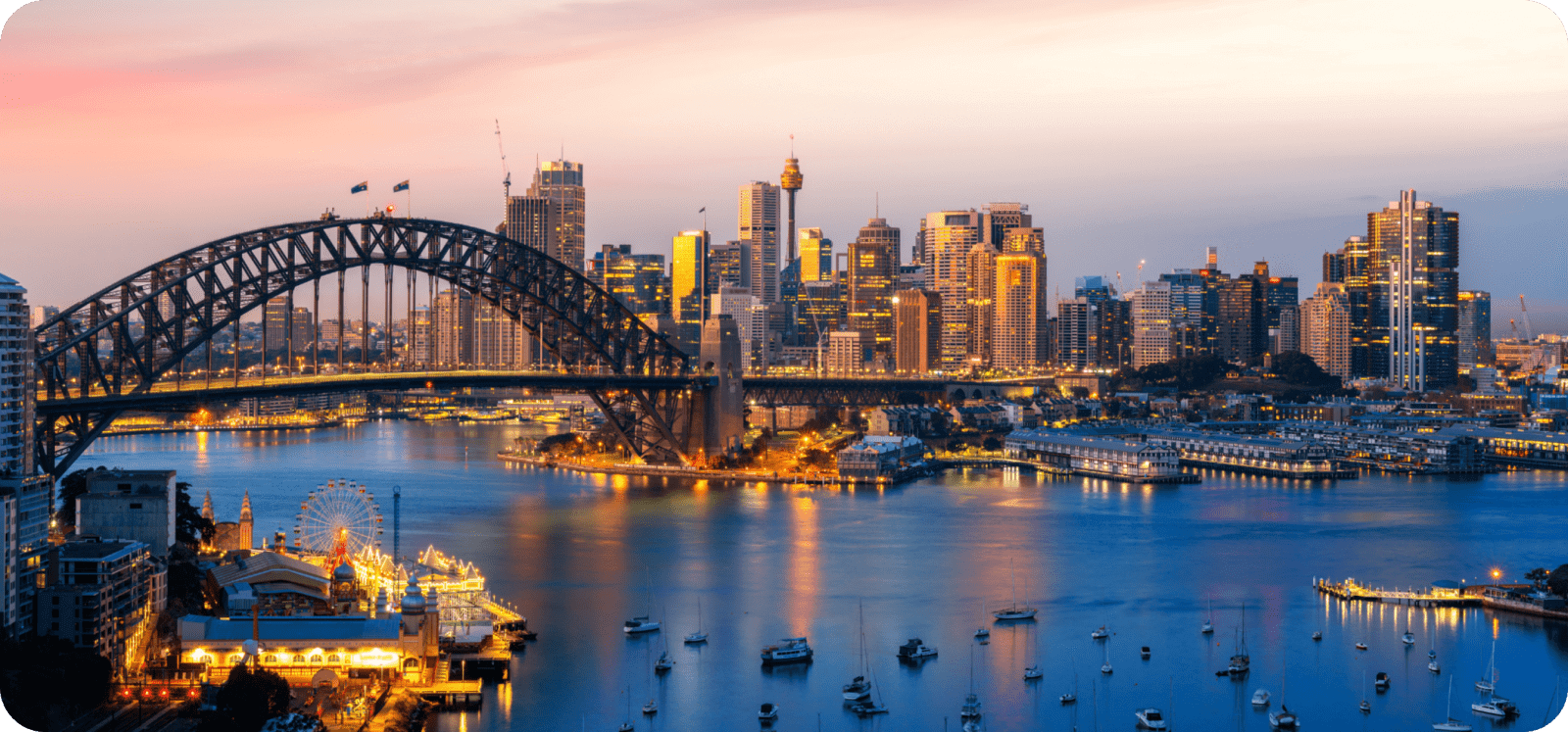 Meta: Plan incentive trips for employees to Sydney and inspire your team in our spectacular harbour city. Make it special with our Corporate incentive travel planners.
Inspire your team with an extraordinary 3-day incentive tour that showcases the very best of Sydney, from the stunning harbour to vibrant CBD and beyond.
Sydney, a world-class harbour city with natural beauty, iconic landmarks, and thriving cultural scene – ranks consistently highly for business events and incentive trips for employees.
Add to this Sydney is a leader in sustainable travel, tours and stays, so there's no shortage of amazing group experiences for the modern day responsible traveller.
Explore the city's iconic sights and hidden gems, indulge in delicious food and wine, and immerse yourselves in local art, culture and heritage in this 3-day Sydney incentive group travel itinerary like no other.
Let's get started.
Day 1
Morning: Arrive in Sydney and check into an iconic harbourfront hotel. Travel sustainably with an eco hotel stay at the 5* Four Seasons Hotel Sydney for up to 530 guests, or boutique hotel Ovolo Woolloomooloo for up to 100 guests. Relax, settle in and enjoy the stunning views of Sydney harbour and the iconic Sydney Opera House.
Afternoon: Embrace the heart of Sydney with a private whale-watching tour on Sydney Harbour. Take in the sights of majestic humpback whales as they migrate along the east coast of Australia. Experience the thrill of seeing these magnificent creatures up close, and learn from expert guides about their behaviour and conservation.
Early evening: Return to your hotel and freshen up for a welcome drinks reception at Bennelong Restaurant, located under the iconic sails of the Sydney Opera House. Indulge in drinks and canapés while taking in sweeping Sydney harbour views.
Late evening: For an exclusive group experience tag on a surprise "behind the scenes" tour of the Sydney Opera house or after-hours guided tour of the Art Gallery of New South Wales, where you'll receive an exclusive viewing of the gallery's collection of Australian and international art.
Day 2
Morning: Immerse yourself in Sydney's vibrant food scene with a guided food tour in the CBD. Explore hidden alleyways and discover local specialties while learning about the city's history and culture. Sample delicious coffee, artisanal bread, cheese and chocolate.
Afternoon: After breakfast, take water taxis to Cockatoo Island, a UNESCO World Heritage site located in the middle of the Sydney Harbour. Explore the rich history of Cockatoo – a former convict prison turned shipyard built in the 1840s.
Take a guided tour of the island's fascinating industrial heritage, bond over a thrilling team-building activity or host a unique conference or event onsite for up to 500 people with the stunning backdrop of Sydney harbour.
Early evening: Get ready for a once-in-a-lifetime experience: the Sydney Harbour Bridge Climb. Strap on your harness and climb the iconic bridge together, taking in breathtaking views of the city skyline and the harbour below. The bridge climb is a top incentive travel event idea in Sydney and is a great way to bond with your colleagues, challenge yourselves.
Late evening: Celebrate with an exquisite gala dinner at award-winning Quay Restaurant, boasting panoramic views of the iconic Sydney Opera House and Harbour Bridge. Savor a multi-course menu by celebrated chef Peter Gilmore featuring the best of local Australian produce, paired with premium Australian wines.
Day 3
Morning: Head to the majestic Blue Mountains, 90-minutes from Sydney CBD, for an immersive Dharawal Aboriginal cultural experience. Explore ancient rock engravings, bush tucker, and natural medicines of the local indigenous people. Learn about aboriginal connection to the land and the rich, diverse history of the region.
Afternoon: Return to Sydney late afternoon for a relaxing beachside barbecue at picturesque Nielsen Park, one of Sydney's most beautiful harbour beaches. Tuck into fresh, locally sourced prawns, oysters and crab, play fun beach games and take in the breathtaking views of the Sydney Harbour as the sun sets.
Evening: End the trip on a high note with a farewell cocktail event at rooftop venue – Zephyr Sky Bar. Located on the rooftop of the Hyatt Regency, the largest hotel in Sydney, you can be assured of premium services backed by sustainable business practices. Here you can enjoy panoramic views of the city skyline over signature canapes while reliving 3-days of unforgettable experiences shared with your team.